DNA Sequencing
Applications
DNA Sequencing
RevoluGen is at the strategic entry point for DNA sequencing
Our nucleic acid isolation and purification (NAIP) technologies revolutionize the critical and mandatory first step for various downstream testing and research applications, including long­-read sequencing processes.
In recent years, long-read DNA sequencing technologies have continued to mature and are now approaching a practical competitor to the short-read sequencing technologies. The long-read sequencing technologies remain behind the short-read sequencing technologies in terms of base reading accuracy but already exceed the short-read technologies in terms of structural accuracy. With long structural variations appearing to exceed the single nucleotide variants by a factor of between 3-10 times, this ability to read structure better might become more important clinical feature of whole genome sequencing than short variant base calling accuracy.
As long-read sequencing improves its base calling accuracy, it is likely to challenge short-read sequencing as the gold standard for a wide range of genomic applications. In addition to producing high quality de novo genome assembly, long-read technologies can also be used to study complex structural variation, full length RNA isoforms and epigenetic signals at a completely new level of resolution. The adaption of long-read sequencing is sweeping through several areas of the life-sciences including agricultural, environmental and medical research.

Applications of Fire Monkey
Watch our Fire Monkey animation showing how our NAIP technology is upgrading and revolutionizing the critical first step in DNA sequencing.
Science breakthroughs depend on innovative tools. RevoluGen's proprietary Fire Monkey nucleic acid extraction technology is upgrading and revolutionizing the critical first step in DNA sequencing. By extracting more, longer DNA in the Goldilocks range for long-read sequencing, faster, RevoluGen is enabling ground-breaking applications in genomics, medicine, agriculture and environmental research. By starting with long-length DNA, long-read DNA sequencing approaches can provide more precise diagnoses for targeted therapies, in cancer and other diseases. And can rapidly sequence and compare microbial genomes, helping to track outbreaks and manage antibiotic resistance.
RevoluGen's Technology Works Across All Generations of Sequencing Technologies Seamlessly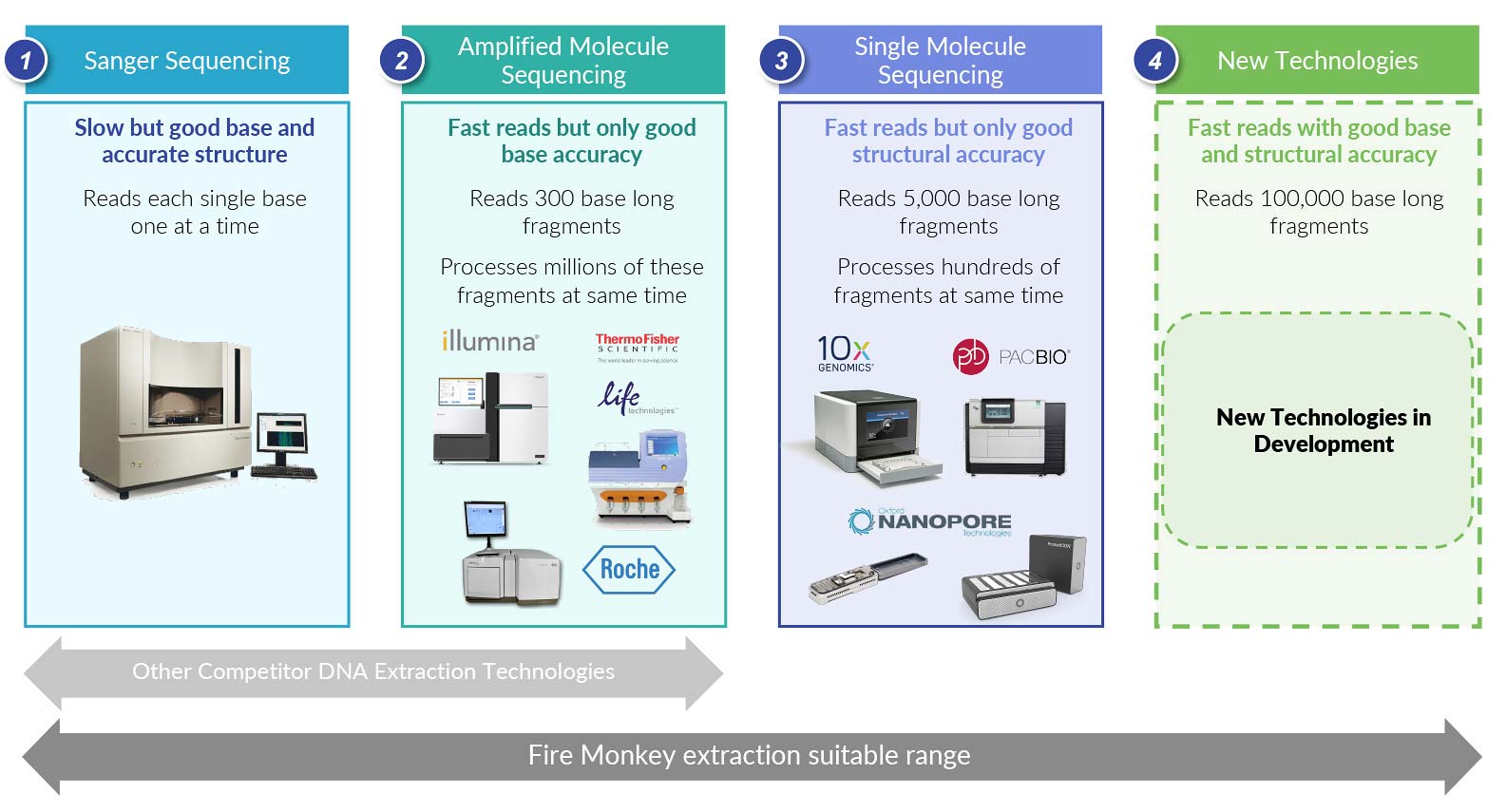 Applications for RevoluGen's Fire Monkey kit
With the explosion of DNA sequencing opportunities, including in human and microbial genomics, the market opportunities for NAIP and sequencing ­related library prep are large and growing.