Fire Monkey
Products & Technologies
Fire Monkey
Fire Monkey High Molecular Weight DNA (HMW-DNA) extraction kit
In a rapid and user ­friendly procedure, using standard laboratory equipment Fire Monkey can, within one hour, extract and purify long ­fragments of DNA from mammalian and bacterial cell samples.
Fire Monkey generates average DNA fragment lengths of between 100kb – 130kb and through its in-built size selection capability, significantly reduces the amount of small DNA fragments shorter than 10kb in the final product. This combination, where significant amounts of the DNA fragments have intact lengths of over 165,000 base pairs and up to several hundred thousand base pairs in length, combined with the absence of most of the smaller DNA fragments, massively improves the eventual long­-read sequencing of the sample.
Other key features:
If RNA is present in the sample, it will also be extracted. This allows the researcher to retain all genetic information (DNA+RNA) derived from small quantities of precious samples.
Due to Fire Monkey's in-built size­ exclusion aspect very few fragments shorter than 10kb will be extracted. As a result, post extraction size ­exclusion steps that are time­ consuming and could break long DNA fragments are not needed. This leads to more user-friendly sequencing protocols and better­ quality sequencing results.
The Fire Monkey and Fire Flower extracts are also suitable for applications other than long­-read sequencing such as PCR and short-read sequencing.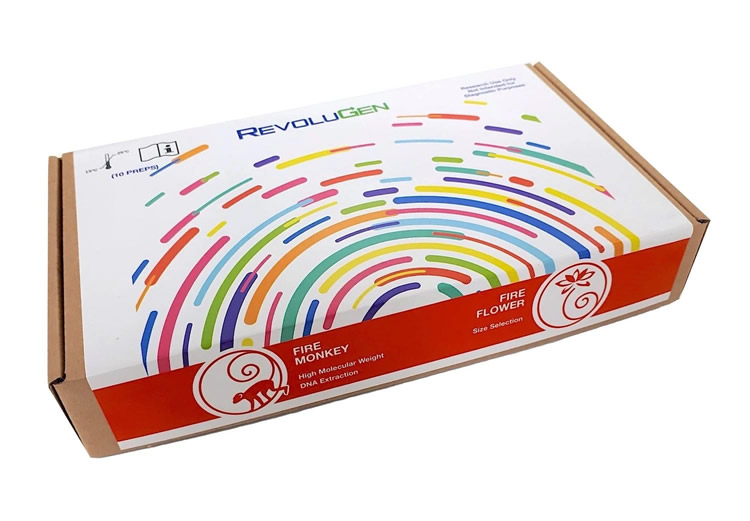 For Research Use Only. Not intended for diagnostic purposes.
For Research Use Only. Not intended for diagnostic purposes.
FIRE MONKEY & FIRE FLOWER 10 COLUMNS KIT
£195.00 Plus VAT
FIRE MONKEY & FIRE FLOWER 50 COLUMNS KIT
via distributors
The latest Fire Monkey v6 can generate N50 of >56kb from mammalian cells.
The latest Fire Monkey v6 bacterial sequencing results. These results were obtained using a single R.9.4.1 flow cell
in an ONT MinION with the LSK109 library preparation kit. This experiment showed that Fire Monkey v6 can
deliver such long and high yield DNA that the whole bacterial chromosome assembly and its plasmid partner can
be resolved at one thousand times coverage. In fact, the complete bacterial genome and plasmid can be
assembled in a single contig with a 50x coverage threshold solely using reads of >120kb, as illustrated below.

Longer DNA Fragment Extraction by RevoluGen's Fire Monkey Technology Allows for Better Structural Information
The latest Fire Monkey v6 protocol has also been adapted to work on stool samples preserved in Zymo Research's DNA/RNA shield product as well as on bacteria and mammalian cells. This was why Fire Monkey was chosen to support a Campylobacter Jejuni burden trial that the Gates Foundation is currently running in Bangladesh through the Quadram Institute, UK.
Currently RevoluGen's R&D efforts are focused on adapting Fire Monkey's spin-column process into an automated format, in order to satisfy the commercial need for large volume sample extraction. Tecan is producing the prototype at present.